Setting Up A Volume Purchase Programme (Vpp) Account
Fri 16 May, 2014
To purchase apps in bulk you must have an account for the Volume Purchase Programme for Education. You must register for this programme and be accepted by Apple before you can make use of the education discounts, this process can take up to 5 days so plan ahead.
Using the VPP you must pay for as many copies of an app that you wish to use, however the vast majority become half price when more than 20 licenses are purchased in one bundle. This is, however, at the discretion of the developer and not all are quite as generous.
As a school you should be VAT registered (probably through the LEA), if you enter the VAT number during the registration you will also have VAT deducted from your purchases. VAT numbers can be obtained from your LEA if you don't have it to hand. 
How to register
To register for and use the VPP you will need two separate email addresses for Apple ID's. One of these will be the account used to make purchases in the VPP store, and the other one will be for use in iTunes to download the apps.
A VPP Apple ID cannot be used in iTunes and an iTunes Apple ID cannot be used in the VPP, hence the need for two addresses.
The address to be used for the VPP must not have ever been registered for any Apple services before. If at all possible I recommend creating email addresses specifically for these purposes, as you will receive a lot of confirmation emails after purchases and billing information updates.
To register for the VPP go to http://deploy.apple.com. Select the 'Enroll Now' option, as shown here.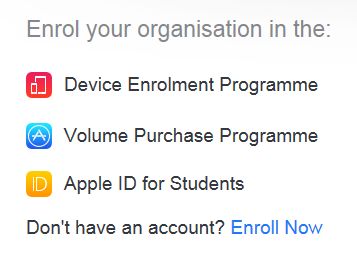 On the next screen select to Enroll in the Volume Purchase Programme, this will most likely be the only option.
You will need to provide your contact details and the contact details of someone who can verify your employment position; I recommend the Head Teacher or School Business Manager for verification.
You will then be asked for details of your school, this is also where you will be able to enter the VAT number. Once you have completed the registration form you will have to be accepted by Apple, this can take up to five days and you will receive email confirmation when this is complete.
You can log into http://deploy.apple.com at any time after your registration to view your application status, this will tell you if it is in progress or if you need to provide any further info. Once this process is complete you will be able to buy apps using the VPP store.
Was this article helpful? Email us at getintouch@softegg.co.uk